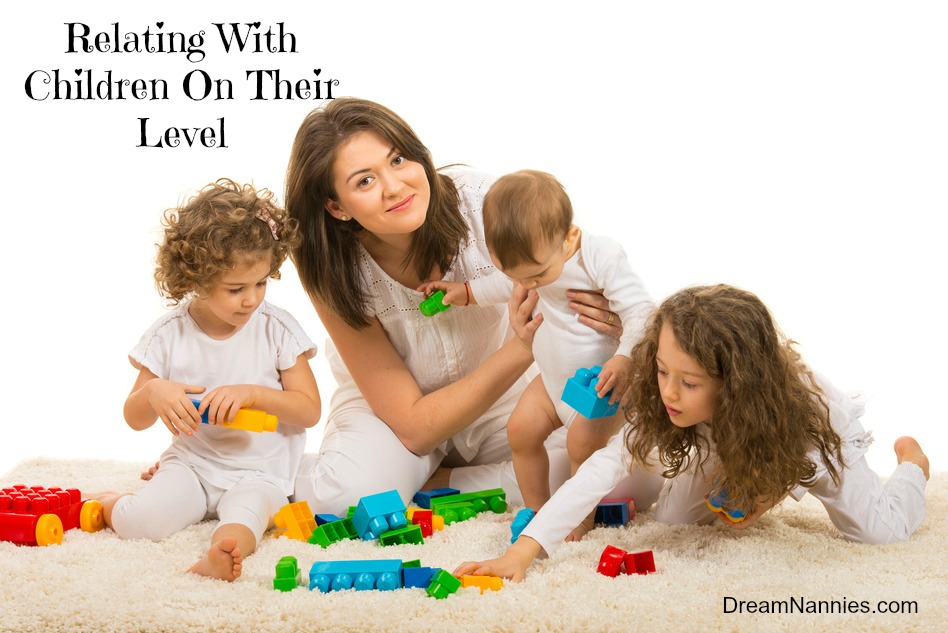 5 Days of Helping You Become the Best Nanny: Day 4

Relating with the Children on Their Level

Welcome back to our 5 day series of helping you become the best nanny in Atlanta, GA, Tennessee, Charlotte, NC, and South Florida! Now that you have an idea of how to effectively communicate with your boss, let's talk about relating with the children on their level!  Every child is different, and every child grows up in a different family, which means what worked in your last job in connecting with the children, might not work with your current family. It is extremely important to get to know each child individually and relate with them on their level. When you get to know the kids and they get to know you, you will all have much more fun!
So, how do you become the best nanny?
How old are they? Take this into consideration. If you've worked with elementary aged kids in the past but now you have a couple of middle schoolers, you're going to have to adjust how you talk to them to gain their trust and establish a healthy relationship. Also, if you're speaking with toddlers, bend down to their height so they can focus on what you're saying better.
Find out their likes and dislikes! Maybe Tommy likes trains, but his twin brother just wants to play sports. And Lucy wants to play dolls all day long with you, but her big sister would rather stay in her room and read. You're going to have to get to know them individually and learn to balance spending quality time with each child in order to relate with them. See how creative you can be in incorporating activities that will interest all of the kids, so you're not running yourself ragged trying to please everyone.
Establish boundaries with the children. Yes, you want them to like you and you want them to feel like you're their friend. But there is a fine line that has to be drawn when it comes to setting boundaries. You must maintain authority even if the kids feel completely comfortable with you. Setting boundaries in the beginning will help maintain a healthy relationship down the road.
Did You Miss The 1st Couple Of Days? Click On Any Link Below To Catch Up!
5 Days of Helping You Become the Best Nanny: Day 1
5 Days of Helping You Become the Best Nanny: Day 2
5 Days of Helping You Become the Best Nanny: Day 3
Simply Click Here To Send Us An Email Or Request More Information
© All information on this website is Copyrighted 2014 by Georgia's Dream Nannies, Inc. 
Make sure that you follow along with Georgia's Dream Nannies on Facebook, Twitter and Pinterest to get more GREAT ideas from us! 
As featured by… | Atlanta Journal Constitution |Best Atlanta Childcare KUDZU 2013 \  CWK Television Network  | Points North Magazine |  Towne Laker Magazine  | Gwinnett Business Journal Newspaper | Cherokee Ledger-News |  Cherokee Tribune | Atlanta – December 12, 2013 – Georgia's Dream Nannies, Inc. was named a Best of 2013 winner for Atlanta Child Care on Kudzu.com a leading source for local business information and consumer reviews.  Over 5 million local businesses competed across a wide range of categories including home, auto, health and professional services. Winners were determined based on thousands of votes from consumers in the Atlanta Kudzu community. Georgia's Dream Nannies, Inc. received the top honor!