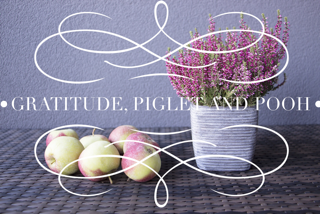 Gratitude Can Inspire You
Gratitude Can Inspire You. "Piglet noticed that even though he had a Very Small Heart, it could hold a rather large amount of Gratitude." ~ A.A. Milne, Winnie-the-Pooh
It is that time of year when we try to focus on the thankful part of Thanksgiving. From 30 day Thankful Challenges to Pumpkin Spice Latte everything, it is the season to breathe in the gratitude and breathe out the graciousness.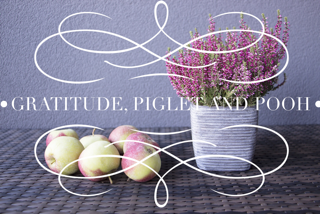 Perhaps it is just me but it seems even more important at this particular juncture in society. I hear the stories of offenses and injustices and wrongdoing and selfishness. It can seem overwhelming to consider trying to raise positive, well-adjusted children in an increasingly negative world. So how do we change the atmosphere in our home?
We choose our focus. We can focus on the bad or we can focus on the good.
To get us started here are some things that I am filled with gratitude about today.
Coffee, the laughter and hugs of my children, fresh air, the beautiful reds and yellows of the changing leaves, the love of friends and family, a good book, a cozy fire, fire pits with friends, football games, stories of strangers who do good things, yummy food, the ocean and all it majesty, the freedom we have to fly in a big machine and be across the country in just a couple of hours, music that stirs my soul, the joy that comes with being truly myself around good friends, the freedom to be silly with my children, antique shopping, hiking in the cooler weather, a good movie, the anticipation of fresh snow, my faith and the ability to openly celebrate that, the love and snuggles of dogs that love us and cats that tolerate and us, the smell of new babies, the giggles and the hope that new babies bring, the tenderness of watching my parents love each other through health challenges, the wonderful nannies and families that we get to work with each day.
We have the opportunity each day to consciously and intentionally set a tone of thankfulness for the big and little wonderful parts of life. We can daily demonstrate for the little children watching us what it looks like to choose the positive and to focus on the good things. And for those of us who occasionally get off track, I am grateful that every November I am reminded to change my focus.