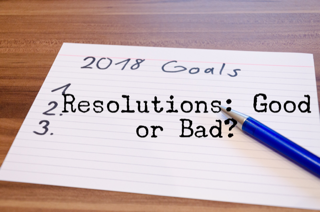 Are New Year's Resolutions a Good Thing?
Did you break your New Years resolution yet? We are a couple of weeks into a new year. A whole New Year filled with fresh possibilities, new adventures, potential growth. With all of the newness and hope that a New Year brings, we make small and sometimes large resolutions. As humans, we are not very happy with being stagnant so we look at areas of our lives that we want to see change or growth in. How are you doing so far? Have you stuck with some, let go of others already? Have you given up altogether? The question begging to be asked is are resolutions a good thing?
Yes – Resolutions can be a great way to jump start a new year. Taking a little time for self-reflection, taking stock of where we stand in regards to our life goals can be phenomenal. I highly encourage self-awareness. I personally love to write out some goals that I would like to accomplish each year. Personally, professionally, and in my character development. I love looking back over that list at the end of the year and seeing how much of it actually got accomplished. However, I also love spontaneity and the adventure that could possibly be waiting around each corner. I love when I can look back over a year and see the goals that I did accomplish, and also the goals I surprised myself with. I love making a to do list and then checking items off that list. New Year's Resolutions are the ultimate To Do List. Which leads me to my next point.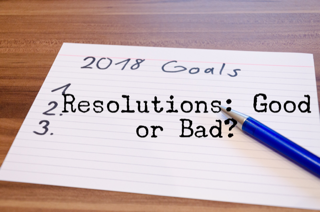 No – Resolutions can be mentally devastating, emotionally exhausting and physically humiliating. When we start out strong, but then life hits and our resolution falls to the wayside for a day or two it can be completely demoralizing. Starting off a brand new year with the feeling of failure is antithetical to accomplishing big dreams and goals. And truth be told, how many of us want to treat our entire year as a giant to do list? For some of us, that can be exhilarating. For others, a year long to do list is demotivating.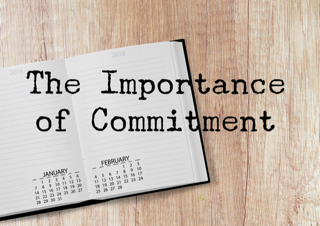 So what are we to do? Well, if you like resolutions and it works for you, then make them. If you find them more discouraging if you do not stick with them, then don't make them.
What is more important than a set of expectations, performance or standards is taking the time to think through what are some areas we would each like to grow in. Examine yourself professionally. Do you wish you could be more reliable or committed to your domestic staffing job (Read this article)? More proactive for your family? What about personally? What are some positive changes you would like to make for your own family? What about having an attitude of gratitude (Read this article)?  What are some character traits you would like to strengthen or improve? Once you have identified some of those, then decide what works best for you. Resolutions? No resolutions?
What I would love for each of you is to be able to look back over your year when we reach the end of 2018 and see that you set out to accomplish some goals, changes or simple improvements and you made it. You set an expectation and you were successful. And if you are n
ot successful in every area then I would love for you to have enough grace for you. We are humans. We are a work in progress. We are constantly growing, changing, adapting, learning and creating. This is going to be a great year. Cheers to a wonderful 2018.