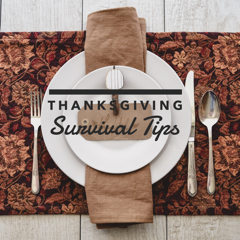 Thanksgiving Survival Tips
It's almost here. Thanksgiving. This is one of my favorite holidays. This holiday is about family and delicious food, and the comfort foods of our childhood. For me, the graciousness of this holiday in which we feast and laugh and maybe even cry is what I love. This is about the people we love, the friendships created, the memories of Uncle Joe snoring loudly on the couch. However, let's be real. It involves family, food and there are a million things that can go wrong. From children whining that they are bored and hungry to forgetting to thaw the turkey in time to the inevitable wrong thing said to the wrong person – we all need some survival tips. So here are a couple of our favorites.

Thanksgiving Survival Tips
Plan a family play – while the cooks are cooking up a storm, have someone be in charge of marshalling all the children and teens (and if you can get the non-cooks involved then you are winning) involved in planning and putting into action their own play. This is such a fun way to see where everyone's strengths lie. Who is the creative talent? Who is the wordsmith? Who is a genius at pulling costumes out of thin air? Who is the management talent? Sit back and watch the magic happen as your family comes together to create a masterpiece. Make sure you have a videographer. Whether the play is presented before or after the bountiful feast, it will be a huge hit and will keep children interested and engaged and out of the kitchen.
Create a family craft – The craftiest crafter among you can take on the challenge of planning a fun family craft to be crafted while the magnificent meal is being prepared. Pinterest is full of ideas. Maribeth's family likes to make a Christmas ornament or Christmas gift for mom during Thanksgiving. Perhaps you have the littles (with the help of some bigs) create the decorations for the Thanksgiving table. Have fun with this. Don't forget to take pictures.
Get Outside – Take a family hike, play a family game of football, or just a walk through the neighborhood. Few endeavors create open communication more than people getting active together. Breathe in the fresh air, expel some nervous energy and enjoy the beauty of the fall colors.
Have a quiet spot – Every family function needs a quiet place. Babies can sleep, children can take a break from the activity and bustle, moms and dads can take a deep breath after the 100th question about when is the next baby coming.
As much as we all dream of the Norman Rockwell style family holiday, we tend to forget that was probably a quick snapshot before the dog ate something off the table, two brothers got into fisticuffs and Grandpa said a bad word. Just remember, the people you are celebrating the holidays with – they are part of your tribe. Look for the perfect snapshot moments, enjoy the laughter and be thankful that even if there are a few tears, you have family and friends to share them with. Happy Thanksgiving from all of us to all of you.