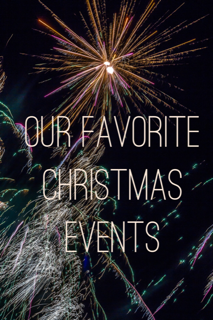 Favorite Christmas Event Traditions
Christmas can be a magical time of year. Decorations, parties, gifts, Santa and making memories. That is the best part of Christmas – all the memories we have the opportunity to make with our families. There are some amazing events happening around Atlanta that allows for fabulous fun, precious pictures and gaiety galore. Here are some of our favorite holiday tradition events.
Don and Serra – Garden Lights, Holiday Nights – Atlanta Botanical Gardens and while there visit the Holiday Model Train Show. Our children are younger (ages 6 and 8) and really enjoy seeing all the beautiful Christmas lights at Atlanta Botanical Gardens. With more than one million colorful lights our children love seeing all the glowing displays. Bonus: The Holiday Model Train Show that has choo choo trains and a holiday trolley chug along 6 tracks of mountain landscape. It is a tossup on who has more fun, Don or our son.
Beka- Snow Mountain at Stone Mountain – with a 10 year age gap and grown boys (ages 10, 17 and 19) my three kids love Snow Mountain. From snow tubing down the mountain or the two moving sidewalks going back up to the Singalong Christmas Train, we are guaranteed to all be happy. Bonus for mom – hand blown glass ornaments and lots of photo opportunities. For younger kids there are characters and a nightly Christmas Parade.
Maribeth- Atlanta Ballet's Nutcracker is a favorite tradition of ours. From little girls who dreamed of being ballerinas to young ladies (ages 15 and 18) that enjoy a night to dress up and be reminded of fairy tales, this makes us all happy. I love the continuity of watching this classic with my family and the beautiful photos of all of us dressed up for an evening out. Bonus: The beautiful Fox Theatre still thrills my girls and I love that they have the opportunity to experience the ballet at such an iconic location.
Two Bonus Events:
Live Nativity Scene at Sardis Church – Live animals, hot chocolate, cider and cookies as well as Christmas Carols in the sanctuary – this is a terrific time to enjoy a peaceful night together as a family.
In addition to all of the shopping for gifts, and wrapping of gifts, and planning of parties, don't forget to stop and focus on what is really important this season. Making memories with the ones we love is the best gift we can give each other. One day (very quickly) the kids are grown and you will have years of memories and great pictures to look back on. Trust me, it is worth it.