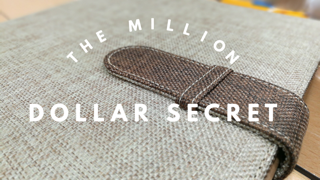 The Million Dollar Secret
Nannies, Nannies, Nannies! Have you ever wondered what parents are looking for when they conduct an interview with you? Do you know how to stand out from the crowd? They are interviewing multiple candidates and they are scrutinizing every detail all while looking for the perfect nanny that will fit into their family. Do you have what it takes? Let's assume that experience is equal, educational background is stellar and your winsome personality is in line with the other candidates. Is there something you can do to set yourself apart? YES!!!!!
The Million Dollar Secret – A Portfolio
A nanny nanny portfolio. A notebook that you have built that gives a visual of the type of person you are, the type of nanny you are, your strategy, approach and style of investing into their children will make all the difference in the world. Your portfolio will give the family a snapshot into what their child's day will look like with you. So what should you include?
Cover letter, resume and list of references. This is the only part of your nanny portfolio you will leave with the family. The rest of the nanny portfolio can be placed in protective sleeves. Need help creating a beautiful and eye-catching portfolio? Visit our SHOP here
Reference Letters – It's best to keep these to your top two or three. A family will skim over this. The nanny portfolio is not meant to replace your interview with them but will definitely maximize your time with them.
Sample Daily Schedule – Write out a daily schedule you like to keep with your nanny children.
Communication Template – There are so many different templates on the internet so find one that accurately reflects your style and personality. You can have a daily template and then a weekly template so that you can share the daily and weekly highlights, items to discuss, important milestones, etc.
Sample Lesson Plans – If you like to have a weekly theme of interest or daily lesson plan ideas, include these.
Arts and Crafts – Include pictures of arts and crafts you have done with previous children. Perhaps you like to bake, include pictures of baking adventures. If you do not have any then print some ideas off from Pinterest to show what you like to do. Perhaps you prefer science experiments with children – go ahead and show your skills and preferences.
Menu List – Include a list of meals that are your go-to's. If your nanny family asks you to cook dinner one night, what could they expect from you?
Household Organization List – Whether a weekly or monthly plan, include a list of household chores, schedules, plans to keep your family on track.
Take a few minutes and look at your nanny portfolio. If it needs to be updated, DO IT. If you don't have a nanny portfolio,  MAKE IT. Need help creating a beautiful and eye-catching resume, cover letter or portfolio? Visit our SHOP here
We want to help you succeed. But I really wanted to share with you the absolute difference this one item in your arsenal can make.
 Need A Pretty Template?
Are you looking for a strikingly beautiful and visually appealing resume that will get you noticed and set you apart from the competitive pool of job applicants? Set yourself apart from the other job applicants with a modern portfolio package from us. We are offering a wide selection of creative resume template packages that are modern, clean, and professional for you to instantly download right from your computer. For a total investment of $8.99 or $14.99 you will be able to choose an outstanding (Microsoft Word) resume, cover letter and reference template that sets you apart and fits nicely within your budget.  Visit our SHOP here
Find one that fits your personality and style. Our beautiful templates are perfect for individuals seeking a job working in the domestic staffing field (nannies, housekeepers, personal assistants, household managers, childcare workers and other staff).
Click on any of the links below for more tips!