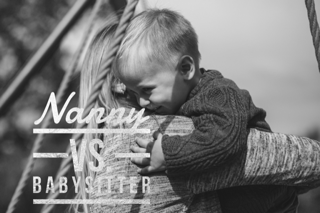 Nanny Vs. Babysitter
Do you know what the difference is between a nanny and a babysitter?
Do you think there is a difference? Do you think it really matters? At Georgia's Dream Nannies we work with professional nannies and help them find to families and connect them together. Let me just answer these questions. Yes and yes. The Merriam-Webster definition of nanny is a child's nurse or caregiver (Merriam-Webster.com) But that is still somewhat vague. Here are some specific differences.
A professional nanny will have set hours, whether on a full-time or part-time basis. Typically, they will work for one family (a part-time nanny might have two families at a time). They are considered an employee of the family and will have a contract. They will be protected by certain employment laws and are entitled to paid time off, vacations and other various perks and benefits, although that may vary from family to family. A babysitter will not be contracted and will instead function on more of an as needed basis. They would be considered a contract employee. They do not typically receive any other benefits (ie., paid time off, vacations, etc.)
There is also a mindset shift that shows a much larger difference between nannies and babysitters.
Nanny Vs. Babysitter and becoming part of a team
Professional nannies understand that they are going to become a part of a parenting team. They will work closely with the parents to maintain the parent's wishes and desires for their child(ren) but they don't stop there. They will take an active responsibility for the mental, physical and emotional growth of the children in their care. Whether it is paying attention to developmental milestones and noticing whether there are delays or possible challenges the parents might need to be aware of or simply be the emotional support they need on a really bad day. Nannies will often become a part of the family. They develop a true bond with both the children and the parents. They do not take the relationship or the trust lightly and place a lot of value on their role in that family's dynamics.

Nanny Vs. Babysitter and the import an roles they both play
Babysitters will be happy to come up with fun activities, keep kids entertained and safe. They will do the best they can to maintain order but they do not see themselves as an extension or representative of the parenting team. When it comes to discipline issues, they will generally follow the parent's advice or preference but won't take the time to get to know each child individually and tailor a discipline strategy that instructs that child and helps train and mold them.
Babysitters and nannies both have an important role to play in a family's life. No two parents can function fully and capably on their own without the occasional break and if you have had children for more than one minute you have already discovered that the more hands helping, the better off your children will be. For those young people planning to embrace becoming a nanny as a profession it is important to understand the differences.