Top-Notch Nanny Agency & Household Staffing Services
Atlanta-Georgia, Charlotte-North Carolina, Florida & Tennessee
  VOTED BEST CHILDCARE 
Since 2003, we have been the top-notch nanny agency in Atlanta; However, we have expanded our nanny services to offer a wide variety of household staff to the finest families in the South; including Florida, North Carolina and Tennessee.  We offer well-polished Nannies, Housekeepers, Household Managers, Governess, Chef, Newborn Specialists,  and other staff for the home (See complete list of services here).  Our attention to detail, prompt and friendly customer service, ultimate background checks and in-depth interviewing process allows our Placement Coordinators the ability to quickly match qualified candidates with clients.  Our staff spends countless hours recruiting the highest quality help for your home; whether you are hiring a nanny manager, nanny with special needs experience, housekeeper, household manager or any other type of household staff.
What Makes Georgia's Dream Nannies A Top-Notch
Nanny, Housekeeper, Household Manager Agency In Atlanta, Charlotte North Carolina, Florida, And Tennessee?
For every 50 candidates, we find only a small handful make it through our elite selection process.  What does this mean to you?  Quality.  Plain and simple.  Actions speak louder than words in raising secure children, and you should never risk hiring someone who copied and pasted a resume to look like someone they're not.  Not everyone who raises their hand to be a nanny, housekeeper, household manager or other type of household help is cut out for this industry, even if they have a sparkly clean background report and good references.
Doing the ultimate of all background checks, job, and reference checks is only a small part of our top-notch service, and while yes this is critically important, it's not even close to the whole story.  We cut through all the noise.  We know what we're looking for and waste no time saying 'NO' to the wrong nanny, housekeeper, household manager or other type of household help candidates.  YES, we can help you.  Let's talk.  It's so easy to get started.
Georgia's Dream Nannies, Inc. is no longer just a top-notch nanny agency in Atlanta, but we are a full service "Domestic Household Staffing Placement Agency" in Florida, North Carolina and Tennessee.  Georgia's Dream Nannies has a strong track record of notable success (Testimonials & Rewards). In fact, we have been featured in the Atlanta Journal Constitution, CWK Television Network, Points North Magazine, Towne Laker Magazine, Gwinnett Business Journal Newspaper, Cherokee Ledger-News, and Cherokee Tribune just to name a few. 
The company has a brick and mortar office (not just an online facade), a full-time staff of real people you can interact with (not simply words on a screen), and is totally committed to the pursuit of intentional excellence (not just willing to settle for mediocrity).  If you want to cut through all the noise and clutter, get right down to business and use the best "Nanny Finder" in the greater Atlanta, Florida, North Carolina and Tennessee area, then look no further, you've found us.  We have the rewards and press to prove we are the BEST!  We have been featured in numerous magazines, newspapers and even television (See our Press here) . Georgia's Dream Nannies, Inc. was named a Best of 2013 winner for Atlanta Child Care on Kudzu.com a leading source for local business information and consumer reviews.  Georgia's Dream Nannies, Inc. received the top honor!
It's time for a more personal touch.  A touch of class.  It's time to "Hire a Nanny" or other "Household Staff" the right way, the safest way, the smartest way.  It's time to experience the top-notch Nanny agency in Atlanta, North Carolina, Florida and Tennessee turned full household placement service that can truly make all the difference in the world for your family.  You CAN improve the quality of your lifestyle with the right help.
Let's Talk Now
GEORGIA (770) 517 – 0443
FLORIDA (561) 283 – 0453
TENNESSEE (770) 517 – 0443
NORTH CAROLINA (704) 208 – 4542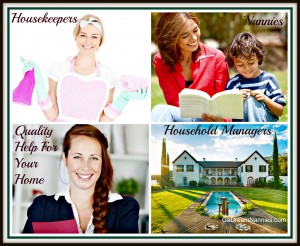 "I hired Georgia's Dream Nannies the first time for a nanny and a second time for a housekeeper.  Both times I was amazed at the high quality of applicants sent to me for interviews. It was difficult to choose who to hire because the choices were so good! Not only were the women I interviewed fantastic, it all happened so quickly! Our need for a housekeeper was filled in about a week! Although it's not cheap using any staffing company, you get what you pay for. I highly recommend Georgia Dream Nannies to anyone looking for high quality, well experienced employees."
  VOTED BEST CHILDCARE