Fire-Pit Party Ideas & New Twist Using S'mores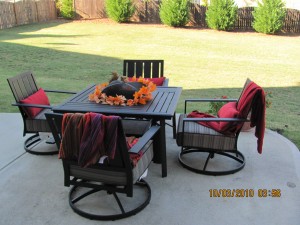 Gather Your Friends Around The Fire-pit This Weekend
I can't believe that we are smack-dab in the middle of Summer.  I wrote this blog post several years ago during the Fall season, but thought that it would also make a great Summer-time memory for families as well. Let's go!
It's time to grab your friends and have a s'mores party around the fire-pit! It's just starting to cool off at night, so pull out those cozy blankets. You might as well just go ahead and plan this easy going fire-pit party with s'mores and your friends.  It's a simple, fun, and easy way to be sociable and the kids will LOVE it.
 S'Mores Bar
Typically, S'mores is a combination of graham crackers, milk chocolate and cooked marshmallows, but but I have attached a few new twists!  You will get inspired to make S'mores cookies or even create a bowl or basket full of the supplies for your guests to create their own special twist – A S'mores bar if you wish :).
Set up a S'mores Bar! I just love this idea of setting up a S'mores Bar for your guests. You can add strawberries, Andes Mints, blueberries, bananas, Kit-Kat bars, white & dark chocolate bars, chocolate graham crackers – Tons of great combinations here. Super easy to fix up! Just display the food on white platters – nothing fancy.

Campfire Cupcakes –   Make  adorable bonfire cupcakes for your next party! I love the tin-foil liners too!

S'mores Bar With Baskets- I just love how simple this S'mores bar setup is…Talk about easy clean-up!

S'mores On A Stick – This is super cute, easy and very kid-friendl

y
7 Great Campfire Songs To Download On Your I-Pod
Let It Be – The Beatles

True Colours – Cyndi Lauper

Baby, I Love your Way – Peter Frampton

Wish You Were Here – Pink Floyd

Everybody Hurts – R.E.M.

Killing Me Softly With His Song – Roberta Flack

There She Goes – The Las
S'mores Twists!
Throw A Blanket On The Floor and Grab An Autumn Book.
Have A Pretend Campfire Inside!
Make the S'mores (below) with your kids
Bite-Size S'mores – This would work great for your child's next party at school.
Are you the Mystery Reader for your child's school ? Well bring in bite size s'mores and read one of the books recommended below.  I have included a list of GREAT school books to read during the season of Fall – (See list below)
Mystery Reader Ideas
Throw A Blanket On The Floor and Grab An Autumn Book.

Have A Pretend Campfire Inside

The Kids Will Love it!
6 Mystery Reader List Book Ideas To Go Along With The S'mores
Enjoy