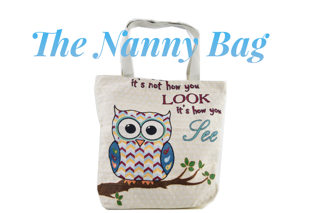 The Importance of the Nanny Bag
Pull up a chair, grab a cup of coffee… let's talk amongst ourselves about tips and tricks in dealing with our nanny children. One of our favorites is the Nanny Bag. What? You haven't heard of the Nanny Bag. Oh honey, let me fill you in.
The Nanny Bag is the little slice of fun that you carry with you. You are the one that has complete control over when and where the items inside the Nanny Bag are enjoyed. The Nanny Bag is a powerful tool for you to use in a variety of ways.
What should be in the Nanny Bag? Make sure that you tailor the contents to the age and developmental stages of your nanny children. Toys – a handful of toys that are just absolute fun. Books – a couple of good books that stretch imagination and capture attention. Puzzles – a couple of easy or even a harder puzzle that will keep little minds and hands busy. A stuffed animal for snuggling. An easy arts and crafts project (I recommend avoiding messy projects). Think something that is easy and keeps little hands busy. Choose items for your Nanny Bag that are exclusive to you – they are not already in the playroom thus creating mystery and increased interest.
To Ease Separation Anxiety – At some point, we have all dealt with children that just did not want mom or dad to leave for work, for a trip, or any other reason. Instead of arriving at the house filled with dread and mentally geared up for the battle – walk in with your Nanny Bag. The only time that your nanny child can play with items in the bag is first thing in the morning, when the battle would be the strongest. Whether you have books to read while snuggled in a chair or a special toy that they only get to play with when you first arrive in the morning, turn your Nanny Bag into a powerful ally in transitioning from mom and dad to nanny seamlessly.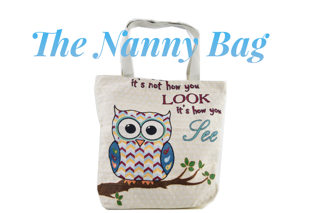 As A Reward – Here is a little secret, I am not a huge fan of using food or candy as a reward item. I would much prefer to use items in my Nanny Bag as a reward for positive behavior. Whether you see your child making a good choice, or putting into practice some new behavior you have been encouraging – allowing them to have time to play with items in your nanny bag is a fun way to reward them.
As A Distraction – Have you ever gone to the doctor or dentist office and watched your child play with that one toy that mesmerizes them? One of the benefits of not allowing total access to the Nanny Bag is you have that distraction.
The benefits of the Nanny Bag are endless. Your nanny child will be able to associate you in positive, fun, creative ways. They will be able to trust that you will always be prepared with items specifically chosen with them in mind. Allow your Nanny Bag to be a special treat and harness the power of the exclusive items earmarked only for certain times.