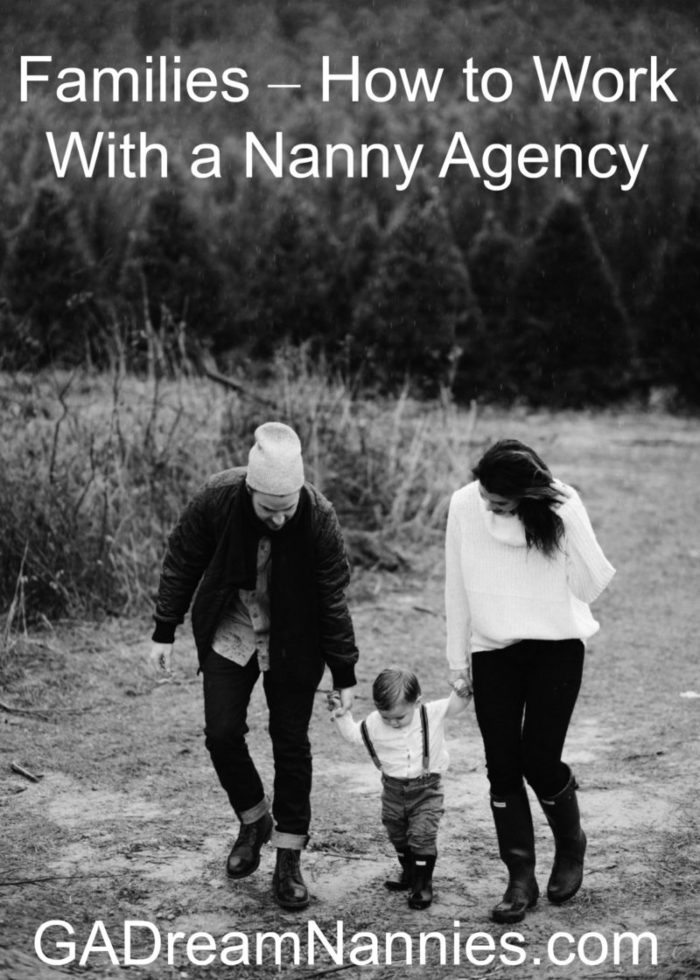 Families – How to Work With a Nanny Agency
Are you considering working with an agency to find a nanny? Perhaps you have used an agency in the past but you really wish you knew what would make the partnership work the best and become the most effective? Here are a few helpful hints to building a superb relationship with the nanny agency you choose. (May I recommend Georgia's Dream Nannies).
1. Evaluate your needs- It is very important to truly understand what your needs are. Do you primarily need someone to care for your kids? Do you need more household management just to make life make sense? Do you need more help with cooking? A true understanding of your needs and your priorities makes a huge difference in finding the right household staff member for your family. If you are struggling to figure out what is a priority then have an honest discussion then ask questions of your agency. They are equipped to help you sort through those options
2. Trust your agency – Research the agency you choose. Make sure you are working with an agency that has taken the time to listen and understand what is important to you. Once you have made the decision, be willing to listen to their input and feedback as well. Remember they have been immersed in the household staffing industry. They have systems and procedures in place that they know work and they truly want to find the best nanny for you. It is in the agency's best interest to have happy, satisfied clients.
3. Respect the candidates time – As much as possible, keep a scheduled interview. There are understandably going to be times that an interview needs to be rescheduled but allow that to be the exception. While you are interviewing candidates, remember they are also evaluating whether working with your family is a right fit for them as well. Side note: If you meet an amazing candidate, don't hesitate too long to extend an offer. They are also interviewing with other families so be willing to trust your gut at times.
4. Be responsive – Have you ever wondered what makes a dream client? The families that respond to phone calls and emails quickly, give solid feedback when requested and generally are easy to work with would be the answer. Providing the information regarding interview availability or feedback after the interview process in a timely manner allows the agency to function at its best.
5. Be realistic – Truly evaluate your budget and your wish list and make sure that they line up. If you are looking for Mary Poppins but you want to compensate Eliza Doolittle wages then you have tasked the agency with the impossible. This is where Tip #1 and Tip #2 will come in very handy. Rely on the agency to help you sort through those issues.
In short, be kind, be respectful and be honest. Georgia's Dream Nannies wants to help you find the perfect household staff member. Partnering with us will help us to achieve our mutual goal.