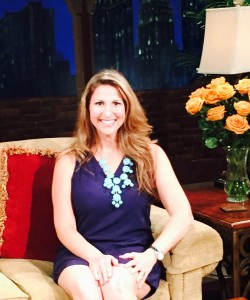 Please review the testimonials below for Serra Deville. 
Testimonials: 
"Serra Deville is truly one of the most energetic and magnetic individuals I have ever interviewed as a journalist. Her speaking skills are superb. Her unique wit and enthusiasm for life itself makes her one of the best speakers I have ever encountered. She shares through her personalized humor and sincere excitement which keeps everyone listening interested  in her next word. I give her two thumbs up!"
Shana Thornton  Award-Winning On-Air Talent  Radio/Television  Atlanta, Georgia 
"I am writing to commend to you my dear friend, Serra Deville, as a speaker for Women's Events. Serra, along with her husband Don, are wonderful servants of the Lord Jesus and have been used greatly over the past years in Kingdom service.  Serra is a very gifted teacher and has served as a leader in our Young Adult Sunday School as well as a teacher in our Children's Department.  I can commend her to you with no reservations as I believe she would do a great job as a speaker for any event for women of any age. "
Dr. Johnny Hunt Senior Pastor at Woodstock First Baptist Church
It is a joy for me to commend to you the blessed and anointed ministry of Serra Deville.  My wife and I have known Serra and her husband Don for close to twenty years through First Baptist Church of Woodstock.  It has been a blessing to see them grow and change into the Godly couple that they are today, a couple whose love for the Lord, for each other and their family, and for His church is inspiring.
Serra is an amazing young lady.  Her faith in and love for the Lord is contagious.  Many people believe that God can do great things, Serra believes that He will do great things.  From giving her the vision for a business that became a huge success to seeing Him change the lives of friends and family, Serra has a unique gift of seeing the Lord's activities and joining Him in them.  He is now giving her the wonderful opportunities to share with other ladies these encouraging and inspiring stories.
Serra is a gifted communicator.  She is charming, real, transparent, warm, genuine, and helpful.  Her heart's desire is that the Lord will work through her in any situation in a way that will bring glory to Him and good to those to whom she ministers.  I am confident that she will be a blessing through any opportunity.
Rev. Vic Smith / Woodstock, GA
Serra is available for women's speaking conferences, talk shows and other events. Please contact our office for her availability at 770 – 517 – 0443 or CLICK HERE to fill out a short speaking request form.  
AS FEATURED ON:
Serra has been featured in numerous media outlets including television talks shows, newspapers and magazines. As featured in the Atlanta Journal Constitution | CWK Television Network | Points North Magazine | Towne Laker Magazine | Gwinnett Business Journal Newspaper | Cherokee Ledger-News | Cherokee Tribune | Featured Guest On Babbie's House Talk Show | Awarded Best of 2013 & 2014 Atlanta Childcare in Kudzu | Atlanta Live Talk Show|
Georgia's Dream Nannies and Serra Deville featured in the media here
Read more about Georgia's Dream Nannies here
Read more about Serra's guest post on the Babbie's House show here
Read more about Serra's guest appearance on the Atlanta Live talk show here
Read our testimonials about our services here
Click here to read more about Serra Deville and speaking requests.